Rebreathers USA: the U.S. Distributor for the JJ-CCR
Essential Features
01.CE certified robust design with a strong history of reliability and versatility (US Units are not CE Stamped)
03.Shearwater Petrel controller with integrated multi-gas decompression software
04.Shearwater advanced designed Independent Digital HUD (Heads Up Display) with real-time PPO2 display of all three O2 sensors
05.Redundant electronics power supplies: One battery for the controller, one battery for the HUD and two parallel batteries for the O2 solenoid. All batteries are in a separate sealed compartment located outside of the loop system
06.Unique designed side mounted counter lungs that can be de-watered, eliminates chest clutter and offers one of the best work of breathing (WOB) in current CCR design
07.Heavy duty Aluminum housing designed to mount up to 4 dive tanks (2-12 litre) using conventional tank bands
08.Self packable Scrubber Cannister design
5 lb Axial scrubber using Sofnolime 797
6.7 lb Radial scrubber using Sofnolime 797
09.Robust rebreather stand that elevates the unit for ease of donning and doffing and provides comfortable unit distribution across the back for increased diving comfort
10.Strong integrated handle for convenient and comfortable unit movement
11.Conveniently located Manual Add Valve (MAV) for addition of O2 and off-board gas (also optional for diluent)
12.Well engineered integrated automated diluent valve (ADV)
13.Nicely designed and smooth operating Dive Surface Valve (DSV)

Rebreathers USA brings to the USA one of the finest rebreathers on the market today.  The JJ-CCR.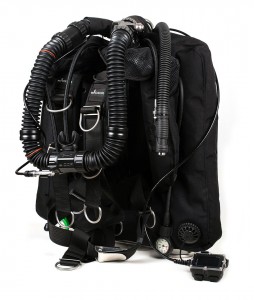 The JJ-CCR rebreather is built to be user friendly, robust, versatile and adaptable to whatever dive you have in mind! It is ready to fly right out of the box, but build as a platform simple to adapt in numerous configurations depending on your skills and needs.
All components of the JJ-CCR rebreather have a purpose and every detail can be justified. It has industry low work of breathing, state of the art electronics with redundant power supply, a user friendly design and heavy duty construction. A slim, robust and simple construction opens for the diver to place bailout, light canister, or gas for buoyancy needs directly on the scrubber housing.
The JJ-CCR International Edition as released in late 2013 comes with a Petrel computer and a digital HUD. Ready to fly right out of the box. Fill it with gas and sofnolime and serious adventures is just about to begin. The philosophy behind the JJ-CCR is to keep it simple; K.I.S.S. simple... The JJ-CCR has a robust construction with minimalistic detail work. It gives the operator a versatile rebreather, still very easy to handle as well as to deal with before and after operations. It is a rebreather built by divers and diving engineers. All components has a purpose and every detail can be justified in order to perform as a system helping the diver to reach his goals. The JJ-CCR is equipped with state of the art electronics and computing but it will still demand a skilled diver fully aware of the Pro´s and Con´s of technical rebreathers.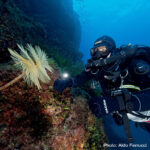 The JJ-CCR is an extremely versatile rebreather which is helping the JJ-CCR divers to reach fantastic places.  With a rugged canister design, and freedom of movement in the chest area, this rebreather can take you anywhere you want to go.
Rebreathers USA: Authorized Parts and Service
We know that rebreather divers are concerned about being able to get parts and products for their units.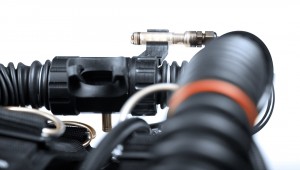 Rebreathers USA is a certified JJ service center, offering a complete stock of replacement parts and supplies. We perform all work and have a supply of parts at our warehouse in Ringoes, New Jersey.

For More Information
Are you ready to take the next step to the JJ-CCR? If you want to find out more information on the JJ-CCR in the USA, contact us for information.
While Rebreathers USA itself does not perform training on the units, a list of JJ-CCR instructors is available by contacting Rebreathers USA